Laptop Assistant 1.8 Released!
Laptop Assistant extends laptop capabilities and improves laptop security.
Download
Buy
Laptop lid controller will increase your laptop security -- it will lock laptop when you close it. Also, it can suspend/shutdown the computer after specified time, play the sounds and execute applications. Different schemes for different power sources.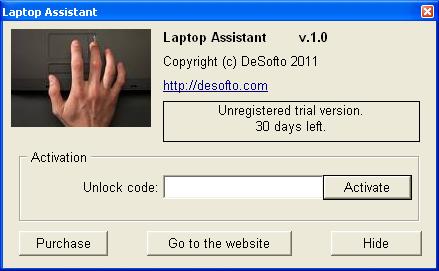 The auto-mute option makes your PC silent when it going to sleep/suspend mode, turning off or while desktop locked. Also, the sound is automatically muted when the screensaver appears. Different sound mute schemes for different power sources.
When you are typing a text on your laptop and your thumb accidentally brushes the touchpad, this leads to change the position of the cursor in your document and you need start typing again and again. Touchpad blocker automatically disables the laptop touchpad while typing. It will automatically disable touchpad when you are typing text.
Sleep mode works like the Sleep button on your TV: just select the time and start wathing the film or listen to music. Your computer will suspend/shutdown automatically after the time you selected.
Download
Buy